Hillary Clinton Lost Because She's Deeply Unpopular
seven years later and people still can't accept it
Matt Yglesias suggests that people still underrate the importance of the 2016 presidential election. It's hard for me to believe that he really thinks that; not a day goes by in which rich angry liberals fail to blame everyone else but themselves for 2016. But it's his list of "some of Hillary Clinton's idiosyncratic handicaps" that supposedly cost her the election that's really risible - "the emails, the decades-long poor relationship with the non-ideological press, the sense that she should be held responsible for stuff her husband did."
This is, shall we say, selective. In particular, it leaves out the perhaps-salient fact that Hillary Clinton is and has always been one of the most divisive national politicians in the history of public polling. From the time she arrived on the scene as First Lady, to her run as New York's junior senator, to her role as Barack Obama's Secretary of State, to her twerking, gaffe-ing, galactically entitled presidential run, Hillary Clinton has always been profoundly unpopular with broad swaths of the electorate. Her traditional high favorability among Democrats was a secondary benefit to her primary campaign - her biggest strength being the overwhelming attitude among Democrat insiders that it was "her turn" - but could do little to help her in a general election where her lack of favorability among independents doomed her.
None of this was a secret in 2016, not her unpopularity and not the fact that she was being handed the nomination because she was a member of a powerful political dynasty that had immense influence on the Democratic party. The will of the voters was secondary at best. The Morning Consult, from that year:
Clinton Is Seen as Untrustworthy and Corrupt
For voters who have an unfavorable view of Hillary Clinton, their dislike can be boiled down to one word: trust. Almost half (47 percent) of voters who have an unfavorable view of Clinton don't think she is trustworthy and almost four in 10 voters (39 percent) say she is corrupt….

It's little surprise that 50 percent of Republicans say she is untrustworthy, but that was also the top reason for 47 percent of independents and 39 percent of Democrats who have an unfavorable view of Clinton. Republicans and independents, at 45 percent and 39 percent, respectively, also believe she is corrupt, compared with 25 percent of Democrats.

A little over one-fifth of voters (21 percent) said Clinton changes her positions when it's politically convenient. At 26 percent, Democrats were slightly more likely to criticize Clinton for that reason, compared with 23 percent of independents and 18 percent of Republicans.
It's mystifying, how little the conventional wisdom on 2016 reflects this plain reality - that Hillary Clinton lost because voters don't like her.
There was ample evidence, during that Democratic primary, to predict that her periodic lack of favor would doom her in the general. Here's a Gallup graphic that shows her popularity over the course of her career in the national spotlight.
You might look at that and not intuitively think it seems so bad, but in contrast with other politicians of her stature, it wasn't good at all. Here's an NYT piece from that year. It contains a graphic that demonstrates her favorability over the course of the election, to that point, compared to past Democratic candidates.
Yikes!
If you'd like, you could emphasize the volatility of public opinion towards Clinton rather than her unusually high "unfavorables." Here's an eye-searingly ugly graphic put together by NBC News that points to specific moments in her career.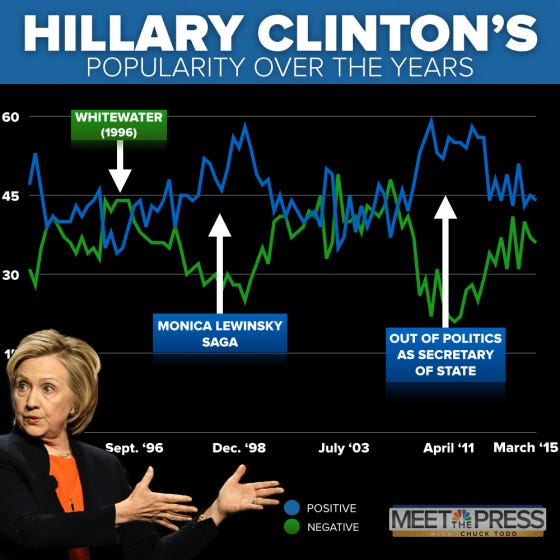 Her favorable-unfavorable numbers were bad, period. You could be forgiven though for looking at such graphics and thinking that she simply was inconsistent over time. The trouble with saying that her popularity is just inconsistent, rather than a clear disadvantage, is that a graph like this is exactly the last thing you want in a candidate running against Donald Trump in 2016, particularly given that she was clearly entering another period of unpopularity right before the election began in earnest. The Democrats enjoyed the benefits of incumbency and eight years of a president who, despite engendering a lot of conservative insanity, was broadly popular and oversaw a slack but steady economic recovery and a return to normalcy after the habitual insanity of the Bush years. Incumbency + no recession + no major wars is a hard bag to fumble, but the Democrats managed to fumble it. The symbol of the Democratic party shouldn't be a donkey but rather a man tripping over his own dick.
Trump was of course uniquely divisive as well, but he was running a spoiler campaign and benefitted from the chaos-agent elements of his candidacy. (Whether Trump even really wanted to win is one of those irrelevant-but-fascinating historical questions.) Trump also stood to take advantage of the structural advantages Republicans have in the electoral college; you can lament the absurdity of that system, and I do, but the Democrats knew all about it and should have planned for it. Clinton, who made the symbolically loaded choice of setting her campaign headquarters in Brooklyn and who barely campaigned in Michigan or Wisconsin, played directly into Trump's structural advantage. With Trump essentially treating his entire campaign as a Hail Mary, the last thing the Democrats wanted was someone who was known to inspire deep loathing and who went through boom-and-bust cycles in this way.
It's common for people to defend Clinton by saying that her unpopularity is a result of sexism. That is, no doubt, partially true, although she's also a remarkably clumsy politician. I don't doubt that sexism has hurt her career in myriad ways. The trouble with that is that it simply doesn't matter. Elections are what they are' public sentiment is what it is. If you insist that this was the most important election of our lifetimes, as Yglesias is here, then you have to focus on what is rather than on what ought to be. And the reality was plain: Clinton presented genuinely unique vulnerabilities as a presidential candidate given how many people in the country actively disliked her. For or fair, that was just true.
But we weren't allowed to point out the clear danger of the moment because the media decided early in the cycle that any questions about Clinton's electability were simply a stalking horse for misogyny. The party and its loyalists insisted that it was sexist to call a spade a spade and acknowledge that Clinton had severe vulnerabilities in basic public sentiment; here's a version from the NYT. Under the conditions of 2016, with the incumbency advantages and Trump's unique issues, you would have wanted to elect someone who simply didn't have the level of negative baggage that Clinton did, someone who the country generally saw as inoffensive. Yglesias nominates Martin O'Malley, but of course Bernie Sanders fit the bill as well. Sanders beat Trump in poll after poll, and cleaned up with independents, which would seem to be important in a presidential election. Clinton apparatchiks have always scoffed at those polls, asserting without evidence that Republican oppo would have sunk him without caring much that Republican oppo was already sinking Hillary.
Bernie, of course, also would have energized the youth like no other, setting up the Democrats for durable gains down the road with that demographic.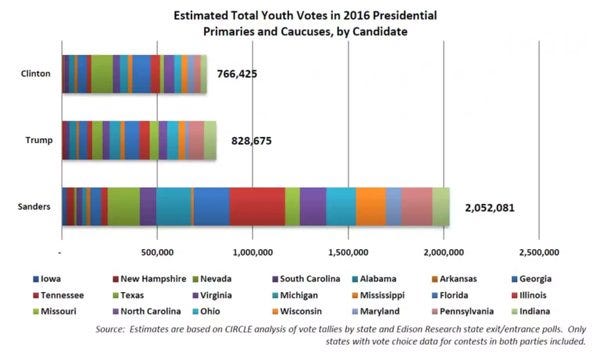 But, well, Bernie didn't win.
Why are we still prosecuting all of this stuff, seven years later? For me, it's simple: the Democratic party and media liberals have never accepted the basic truth of the 2016 election, which is that in their arrogance they nominated a plainly unpopular woman for the job and sealed off any internal criticism of the choice through the most naked plays to identity politics we've ever seen. Democratic party insiders cared more about rewarding loyalists and maintaining their control of the party than they cared about the party itself, and by extension the country. The simple fact that we have to fight to get into the history books is that Hillary Clinton lost the election, and she lost it because she was already unpopular and ran an incompetent campaign. Here's Dr. Grist PhD reacting to Yglesias's piece.
If you're filled with fury, why don't you blame the woman who was by far the most individually responsible and the people who enabled her? If you think that the election was so important, why didn't you support a candidate who could beat Trump? If you're mad at people who expressed principled objections to the center-right because they "treated the election like a game," can you please explain how voting for a deeply-flawed candidate because she was a woman and it was her turn is not treating it like a game? If you think that people who care about, you know, resisting the total control of capital over both political parties amounts to "positioning themselves against Hillary," why does it never penetrate that the things they said about Hillary's electability were proven absolutely, totally, indisputably correct? Why aren't you mad at the right people? Why is this still all an opportunity to grind an axe against Bernie supporters who overwhelmingly voted for Clinton? (Who voted for Clinton at far higher rates than disgruntled Hillary voters voted for Obama!) Unhappy Bernie voters were likely highly concentrated in states like New York and California, states Clinton won with ease anyway. Meanwhile the Rust Belt voters who actually handed Trump victory weren't motivated by Bernie's loss, they were motivated by the economic policies Hillary's political movement gleefully pursued for decades, happily and knowingly trading the support of such voters for the fealty of the rich. It is astonishing that people still won't deal with the basic facts of Clinton's culpability in her own failure. Seven years later, they just can't blame her for anything.
I think Yglesias can't accept all of this stuff in large part because he's gotten himself into a permanent state of ugly mutual parasitism with leftists on Twitter, and he doesn't want to be seen as accepting one of their narratives. Bernie people hate him so he hates them in turn and so he comes up with bizarre contrivances about Martin O'Malley (Martin O'Malley!) instead of Bernie's obvious polling strengths over Trump. Either way, the reality is that Hillary Clinton was always a bad choice for a presidential nominee, she suffered from bad unfavorables her entire career, she presided over an immensely dopey campaign that focused on celebrity glitz while the country was gripped with economic anxiety, and she deserved to lose. The trouble is that Yglesias has direct professional incentive to never notice any of that - he has, we've been told, a direct line to the Biden White House, and you don't get such influence by telling Democratic leadership what they don't want to hear. Telling the bald truth, that the entire Clintonite turn in Democratic politics essentially handed conservatism substantive victory even in the face of electoral wins and made the demise of the white working class Democrat inevitable, is still too fraught in elite Democrat circles, where the shameless neoliberals still reign.
And until that changes, the lessons of 2016 will never be learned.